Impact Basketball Camps for Skill Development
Beginner to Elite, We've got the Right Basketball Camp
Impact Basketball offers 4 different Youth Basketball Camps in Chicago's West Suburbs, each with a different focus and schedule. We have camps starting in July, August, October, December and February.  We have camps for boys and girls in all age groups, skill levels, and positions. Impact Basketball Camps help players improve shooting, ball handling, and decision making with a greater understanding that improves their player efficiency.
We conduct quality, high-intensity, drill based basketball camps that focus on the Fundamentals of Basketball while we develop the skills necessary to advance players performance on the court. These camps will strengthen your athletes' mentality while boosting their confidence to become more aggressive defensive and skilled players.
Click on any of the Basketball Camp options below to see more details and purchase your choice online. 
SUMMER BASKETBALL DRIBBLING CAMP
3rd - 9th Grade
Beginner / Intermediate / Advanced
Camp Director: Jordan Foster
We Develop Our Players through Hard Work
~
Every Tuesday & Thursday
July 18 Tuesday, July 20 Thursday
July 25 Tuesday, July 27 Thursday
August 1 Tuesday, August 3 Thursday
August 8 Tuesday, August 10 Thursday
6:30 pm-8:00 pm
Pay online for $250.00 **No walk-ins**
Bundle with Shooting Camp and pay just $350.00 for both camps
NO CODE NEEDED just add both camps to your cart
Come and Join us at Impact dribbling camp, and you will notice your child's improvement. Campers will be broken down into three different levels – beginners, intermediate, and advanced players that need specialized dribbling skills.
Come and let us Improve your player dribbling skills Impact will be conducting Impact Annual Dribbling Camp for 1 ½ hours.  This camp will NOT HAVE MORE THAN 26 PARTICIPANTS.  Once we have reached the 26-participant capacity, the registration will be close.  Register early to reserve your spot.
 NOTE:
This will be high intensity dribbling for all ages.

Equipment needed: Basketball and bottle water
Location:
Beverly Center 3031 South 25th Broadview, IL 60155

Shooting Camp/ Blaze the Rim
3rd - 9th Grade
 Saturday's July 22, 29 & August 5, 12
3:00 pm-5:00 pm
Pay online for $160.00 **No walk-ins**
Bundle with Dribbling Camp and pay just $350.00 for both camps
NO CODE NEEDED just add both camps to your cart
Location:
River Forest Community Center,
8020 West Madison, River Forest, IL 60305

Advanced Skills Academy 
Advanced Level Grade
 August, September, October, and November
This is a 4-month progressive camp additional days or video session might be required at player expense.  Players attending this should have good listening skills and able to follow directions.
This is Camp goes for 4 Months: August, September, October, and November. 16 Saturdays 1 ½ to 2 hours each Saturday. Limited spots will be available
Saturday 3:30 to 5:30pm
Session 1 August 5, 12, 19, 26
Session 2 September 2, 9, 16, 23
Session 3 September 30, October 7, 14, 21
Session 4 October 28, November 4, 11, 18
Impact Basketball Advance Skill Academy / Camp Focus
1. Identify and improve player weakness through evaluation
2. Prioritize ball control while attacking your opponent and Basket through change of speeds.
3. Practice at game speed/ Thinking the game. 4 on 4 no Dribble
4. Improve your physical fitness and flexibility.
5. Work on Explosiveness and Jumping. ...
6. Practice Work on your lower body shooting mechanics and footwork
7. Watching Film on college basketball games/ breakdown
8. How to be recruitable Student Athlete
Location:
River Forest Community Center,
8020 West Madison, River Forest, IL 60305

HIGH SCHOOL
BACK-TO-SCHOOL
MINI-CAMP
High School
Intermediate/Advanced Level
Start Sunday September 4th
Time
12:00 pm – 2:00 pm
Days
Session 1    September   3, 10, 17, 24
Session 2    October   1, 8, 15, 22
Location
Beverly Center
3031 South  25th.
Broadview , IL.  60155
PAY ONLINE
$40.00 at the door
or
$125.00 per Session
Sharpen your skills for your High School Try-Outs
The High School Back to School intermediate / advanced camp is not for beginners! This month long basketball camp is High Intense Basketball Training. It is a proven effective way of coaching basketball that prepares players for in-game situations by developing specific required skill sets. The sessions are designed to emphasize defense, ball handling, shooting, transition, passing, and footwork focused on developing a well-rounded basketball player. We develop core offensive and defensive fundamentals while providing a fun and winning environment with one hour of Drills and 1 hour of scrimmaging for players.

IMPACT BASKETBALL
SKILLS ACADEMY 
Beginner / Intermediate Level
Boys Grade 2-8 | Girls Grade 3-8
Where Champions are made.
Session One: Saturdays October  10/7, 10/14, 10/21, 10/28
*** October Session is Open***
Session Two: Saturdays November  11/4, 11/11, 11/18, 11/25
*** November Session is Open***
Session Three: Saturdays December   12/2, 12/9, 12/16 & 12/23
*** December Session is Open***
2:00pm to 4:00pm
Gym 3 South
Oak Park River Forest High School
201  N.  Scoville Ave
Oak Park, IL  60302
WALK-IN
$ 40.00
per day  @ the door
PAY ONLINE
$ 125.00
per Session
The Skill Academy 4 month Saturday Basketball Camp is a big part of the Impact basketball system. These sessions will focus on the fundamentals of basketball such as dribbling, shooting, defense and rebounding as well as basketball terminology. The skill development sessions are the foundation of our program and are the very reason our kids do well when participating in their various school teams. Impact has been around for 19 years and is considered as an elite basketball program because of the success of our developmental system. In fact, many of our players go on to play college basketball.  We welcome you to join us and watch the Impact 1-2-3 approach of teaching the fundamentals of basketball which render results.
REGISTER NOW!!!!!  Impact Basketball New Addition
(Played with bonus Ball last  1 minute of the game) 15 minute Half

IMPACT BASKETBALL
Elite Moves Camp 
High Intermediate Level
Boys and Girls Grade 5th - 12th
Where Champions are made.
Start Date: Session 1 December 2, 9, 16, 23
Session 2 January 8, 13, 20, 27
Saturdays 3:30pm to 5:30pm
Location: River Forest Community Center
8020 West Madison
River Forest, IL
Team/Club Members $195.00
IMPACT ELITE MOVE CAMP
Why be good when you can be Great!
This camp is for high intermediate players and above players that want to
improve their game, for grade 5 th -12 th , girls and boys
 Crossover Dribble. The crossover involves bouncing the basketball in
front of you from one hand to the other.
 Through the Legs Dribble.
 Behind the Back Dribble.
 In-and-Out Dribble.
 In-and-Out Cross
 Hesitation Dribble.
 Spin Move.
 Euro-Step.
 Drag and Attack-Skip Dribble.
 Bank Shots.
 Floaters
 Turn Around Jump Shots
This is a progressive camp and highly recommend registering for both
Sessions if possible to help increase your player Skill-Set.
IMPACT WINTER SKILL TUNEUP CAMP
Middle School & High School
Intermediate/Advanced
November to December
Sundays 12 - 2pm
                 Session 1 - October 29, November 5, 12, 19
            Session 2 - November 26, December 5, 12, 19
Beverly Center
3031 South 25Tth
Broadview , IL 60155
WALK-IN
$ 40.00
1 Sunday @ the door
PAY ONLINE
$ 120.00
4 Sundays
Impact's Winter Skills Tune-Up Basketball Camp is for players that would like to stay "game ready" during their high school and middle school seasons. The Winter Tune-Up Camp is also a great tool for players to stay in shape for their AAU season.
This basketball camp will work on ball-handling, guard skills and post skill techniques and shooting, as well advance move techniques.
Campers will participate in one hour of skills & drills and one hour of control scrimmaging against man-to-man defense and zone defense. Learning these skills will show players when to attack or when to setup into team offense or formations.
SHOOTING & MOVEMENT CAMP
4th - 9th Grade
Intermediate Level
January 14th, 21st, 28th & Feb 4
Oak Park River Forest High School
200  N.  Scoville Ave
Oak Park, IL  60302
PAY ONLINE
$ 160.00
No Walk-Ins
Must attend 3 Saturdays
First, in this basketball camp, we cover the basic hand placement of the shooting hand and the guide hand. This will be the same for the vast majority of our shooters. There are a few variances for special needs athletes. (For example, if one player has a different angle to his wrist, we will slightly change his/her hand placement.)
Shooting pocket is the point from where a shot is started. The player's shooting pocket will vary depending on their age, skill level, and strength
Alignment may very well be the single most important part of the shot. Assuming our shooter has established a good center of gravity, their hand, and most importantly, their elbow, must be aligned with their shoulder, which must be square to the basket. Our younger athletes tend to lack the necessary upper body strength to keep the elbow properly aligned on outside shots. However, they can have proper alignment when working on their form and while "form shooting". This is the goal of this part of our February basketball camp.
The release point is that point at which the shooter releases the ball. An improper release point is one of the reasons the ball will have little to no rotation. We'll work on this during the camp.
Follow Through with proper forearm and hand techniques will be covered in our February basketball camp. This is what causes the ball to have great rotation. Proper rotation is what will cause the basketball to have proper angle to grab the backboard or rim and look like a great shot. This is done by proper shooting drills with homework assignments. A good shooter must have Balance, eye contact with rim, elbow position and follow through.
Footwork skills will be honed, such as moving into your shot off the dribbling, proper Jump Stop as well as turnaround Jump shots.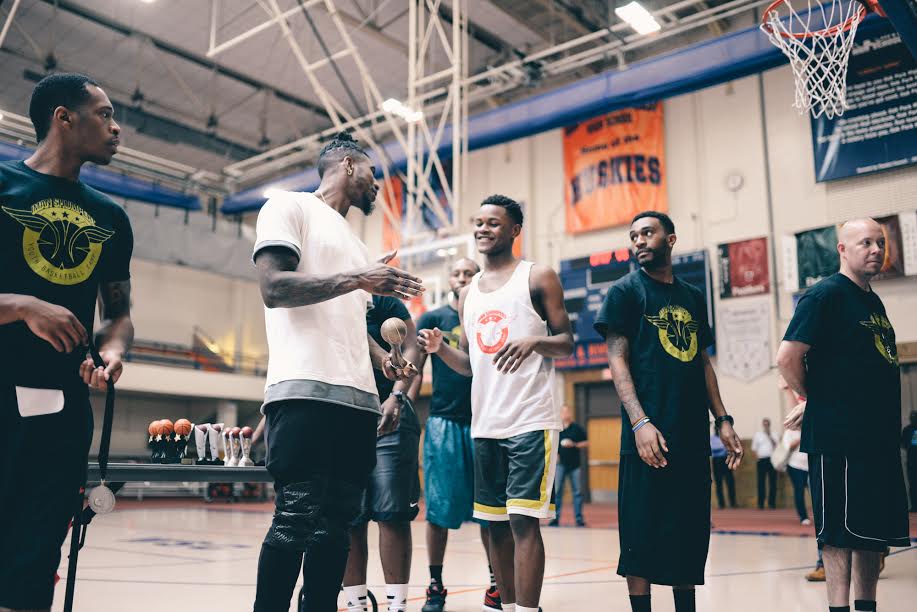 Impact's Dashon Enoch won MVP at Iman Shumpert's 2016 Basketball Camp.
Impact Basketball is a non-for-profit organization designed to help
boys and girls develop and improve their basketball skills.