IMPACT was my son's Jabri first experience with AAU basketball. Coach Foster and his staff not only focused on fundamentals and helped him develop as an all-around player, but they also cared about his success as a student and individual. The coaching he received strengthened his confidence and his discipline. Jabari continues to grow as a player and has received recognition from the Chicago Sun-Times and Prep Hoops Illinois as one of the best players in the class of 2020. It all began with IMPACT.
~Imani Chiphe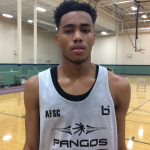 James Foster is a great motivator and a highly respected Coach
Thanks Gods for IMPACT,
James Foster helped our sons, Tyree and Tyler Beard develop their dribbling, shooting, teamwork, communication, coordination skills and ultimately played a huge role in helping them to become great Leaders.
James Foster is a great motivator and a highly respected Coach. He is one of the 1st Coaches who noticed the special qualities in my children and helped us to develop and nourish their skills.
We appreciate all that Impact has been not just for us but for the community.
Thank you,
~Tyree and Jennifer Beard
Impact Basketball provides tremendous support
Impact Basketball provides tremendous support, not only in basketball training but also in shaping young minds through mentoring by Coach Foster and his team.  Coach Foster is passionate about forming not only quality basketball players but quality young women and men.  My son Paxton has enjoyed growing up with Impact and making life-long friends and relationships.  He's received fantastic skills training and made a spot on his high school basketball team freshman year.  We highly recommend Coach Foster and his Impact organization.
~Dawn Ferencak (Paxton)
His confidence skyrocketed!
4 years ago we met Coach Jim Foster at a house league game in Elmwood Park.  He was there watching one of his players for his team Impact Basketball.  He noticed my son Jimmy, who in 7th grade towered over everyone on the court.  Back in those days, Jimmy just stood under the backboard and grabbed rebounds and put up a lot of garbage points.
Jim Foster told us if you give him to me, I will turn him into a guard.  At first I thought he was joking.  Then I started to bring him to some IMPACT skills training sessions.  I immediately noticed a difference in not only his play, but also his knowledge of the game.  His confidence skyrocketed!
This season was his freshman year in high school.  He was captain of both the freshman and sophomore teams, with quality minutes on varsity as a freshman.  The best thing I can say is if Jim Foster and his coaches say they can help your son or daughter, believe him.   Trust him.  If your child is not afraid to work hard and listen to his coaches, you will be amazed.
~ Jim Dohoney
Gabriella Smith grew up in Oak Park most of her life.  In 2nd grade she signed up for Impact Basketball, which at that moment didn't realize it would change the rest of her life.  As a tiny little girl with fuzzy French braids standing amongst the tall older girls Coach James Foster pulled her to the middle of a huddle of about thirty girls and said this player here will be a star.  She will play Division 1 basketball and shine above the rest. At that moment his kindness was more like ingenious, he knew at that instant that she was something special. So she played and learned from Coach Foster for the next six year.  Drill after drill skills and foundations were laid. In particular, Coach Foster taught her how to shoot a basketball, not just shoot it to be shooting but shooting to be perfect. An expert shooter from any range, she took pride in it and now it defines her play.   Throughout her time with Impact she learned some of the most important aspects of the game as well as life-skills off the court. It was always at the end of every practice that James would give the girls a priceless lesson on life, making real connections and real emotion.  You can see it in everyone's eyes, the honor that had for him and respect for everything he taught them. Gabby loved Coach Foster and still to this day thinks about all he has done for her.
As an elementary player at Brooks in Oak Park she dominated on varsity from 6th grade to 8th.  Nominated as MVP her future was starting to begin.  As she went into 8th grade she dabbled with a couple High Profile Travel Teams as well as Trained with Impact at the same time.  Her first year of High School she started as a Freshman on Varsity at St Joseph in Westchester leading them in scoring and rebounding shooting over 70 three pointers in one season.  Following that year she transferred to Bolingbrook High School, as a Sophomore leading their varsity team in scoring and rebounds, receiving All-Area, All-Conference, and MVP. She now will be attending Ball State University
When you look back at that shy little girl standing there at OPRF big high school gym, you realize that dreams can come true, with hard work and true experienced coaching.  Coach James Foster and his staff, not to forget Coach "T" Tanya Thigpen and Coach Jeffery Plane truly had a huge "Impact" on Gabby's life. Also Not to mention as her mother  I Coach Suzanne Wagner was part of Impact family the whole time she was there. Impact lays foundations, teaches life skills, and builds stars, not only on the court, but off the court as well.
Impact for Life
~Suzanne Wagner